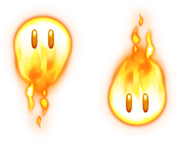 Podoboos are fireball creatures in the Super Mario series, that usually appear in castles as obstacles. Their main method of attacking is jumping out of the lava pools. They can be defeated with iceballs.
Rarely, in some games, they appear playable.
Game Appearances
Edit
When thrown, they act the same as Bob-Ombs do in the Mario Kart Series. They reappear in the rest of the Koopa Kart Series after the DS version with the same function.