This article is about the Pokémon duo in the Super Smash Bros. Series. For the two characters separate, see Plusle or Minun.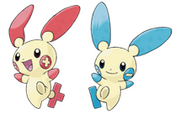 Plusle & Minun are a Pokémon duo appearing in the Super Smash Bros. Series. They were originally going to be playable in Super Smash Bros. Brawl but were removed for unknown reasons. Some believe it was just the random button.
Appearances

Plusle & Minun are confirmed to appear in the upcoming game, Super Smash Bros. Xtreme.
Ad blocker interference detected!
Wikia is a free-to-use site that makes money from advertising. We have a modified experience for viewers using ad blockers

Wikia is not accessible if you've made further modifications. Remove the custom ad blocker rule(s) and the page will load as expected.