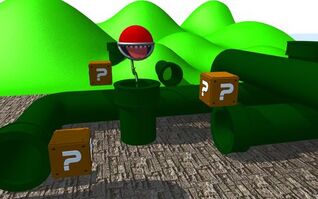 Piranha Park is an unlockable stadium in the game Mario Rugby. It is home to Petey Piranha and can be unlocked by unlocking 50 trophies.
Description
Piranha Park is a grass type and is very crowded. The stadium is full of many Piranha Plants of many varieties including Venus Fire Traps, Ptooies and Inky Piranha Plants. There are also many Question Blocks, which players can recieve items from and Pipes, which the player can travel down to move to another part of the stadium, as this is more a logical type stadium. Also, the Piranha Plants constantly change pipes, making it harder to move around. There are no stands surronding the stadium but many Piranha Plants surrond the outside and Dino Piranha and Peewee Piranha can also be seen.
Ad blocker interference detected!
Wikia is a free-to-use site that makes money from advertising. We have a modified experience for viewers using ad blockers

Wikia is not accessible if you've made further modifications. Remove the custom ad blocker rule(s) and the page will load as expected.