Ad blocker interference detected!
Wikia is a free-to-use site that makes money from advertising. We have a modified experience for viewers using ad blockers

Wikia is not accessible if you've made further modifications. Remove the custom ad blocker rule(s) and the page will load as expected.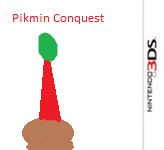 Pikmin Conquest
is a game developed by
Piranha Plant Inc.
and published by Nintendo.
Gameplay
Pikmin Conquest is a game where you must conquer other onions and defend yours. Each character defends an onion, candypop, or nest.
Leaders
Jimmy-Red Pikmin
Susie-Yellow Pikmin
Bubble-Blue Pikmin
Sumo-Purple Pikmin
Pinkeye-White Pikmin
Rocky-Rock Pikmin
Amanda-Pink Pikmin
Puffstool-Puffmin
Loaf-Breadbugs
Parker-Green Pikmin
NPC Leaders
Spot-Red Bulborbs
Wolly-Wollywogs
Burnout-Fiery Blowhogs
Fiery-Dweevils
Blade-Beebs
Swoop-Swooping Snitchbugs
Add More NPC Leaders if you want.
Maps
The Impact Site
The Forest of Hope
The Forest Navel
The Distant Spring
The Valley of Repose
The Awakening Wood
The Perplexing Pool
The Wistful Wild
Gallery