Pikachu actually exists, and it can be found in real encyclopedias. You may read more about it on the following wiki(s):
#025 Pikachu
Category
Mouse Pokémon
Original Region
Kanto
National Dex Nr.
#025
Kanto Dex Nr.
#025
Other Regional Dex Nr(s).
Johto
#022
Hoenn
#156
Sinnoh
#104
Kalos
#036 (Central)
Flevore
#032
Generation
1
Pokémon Color
Yellow
Type(s)
Electric
Ability/ies
Static (Hidden: Lightning Rod)
Evolves From
Pichu
Evolves Into
Raichu
Pikachu is an Electric-type Pokémon that serves as the mascot of the Pokémon series. They evolve from Pichu when leveled up with high friendship and evolve into Raichu when exposed to a Thunder Stone. Pikachu can be found in multiple Pokémon games, and is also the only starter Pokémon for the player in Pokémon Yellow.
Ash Ketchum of the Pokémon Anime also owns a Pikachu. More information on Ash's Pikachu can be found here.
Appearance
Pikachu resemble mice. Their bodies are yellow, their cheeks are colored red, along with pointy ears with black tips, brown stripes across their yellow back, and a lightning-shaped tail.
Game Appearances
Pikachu appears as playable character in Paper Bleck. He can be found in Pokémon and will join the player after the player takes his Pokémap back from Cydit. To get the Pokémap, Amtoni is needed to sneak into Cydit's house. Then, the player fights him and Cydit will join the player. Then you can bring the map back to Pikachu to get him to join you.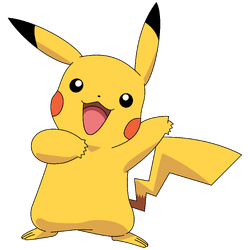 Pikachu will be a playable character in the upcoming Super Smash Bros. Adventure. He accidentally winds up on Corneria, because of a miniature Black Hole. He will have to traverse Fox McCloud's world, and battle Fox's enemies. Not much else is known, as of yet.
Pikachu, along with his younger brother, Pichu, will be playable in the upcoming Super Mario Bros.: Pokémon Odyssey. His world was captured by an unknown villain, and he and Pichu were the only two to escape. They head for the Mushroom Kingdom to find Mario and Luigi, the only two that can help them. Pikachu is the first partner of the game. He is very wise, and knows basically everything about the Pokémon World. He can give Mario Tattle on any Enemy, Location, and Character.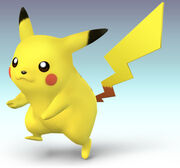 Pikachu appears in the Super Smash Bros. Series.
Pikachu is a catchable Pokémon along with the other species of Pokémon.
Pikachu appears as the main protagonist of the game. He has to save the world before Mewtwo spreads chaos.
Pikachu will appear as the main protagonist again in Pikachu's Final Destiny 2, saving the world with his brothers.
Pikachu is a playable character in WarioWare:Puyo Pop where he and the other Pokémon appear from their Poké Balls.
Pikachu is the main character of Pikachu's Quest where he teams up with many fellow Pokemon to fight Mewtwo.
Pikachu appears in Pokémon Lake Silver as an unlockable Pokémon after you beat all trainers.
Pikachu appears as one of Ash's playable pokemon in the game Cartoon All-Star Melee.
Pikachu appears as one of the special guest characters in Puyo Puyo: Shonen Jump, with Pichu as its Chibi Form, and Raichu as its Deka Form.
Pikachu appears as a starting racer in the game Poke Kart U. Its special move is Thunderbolt.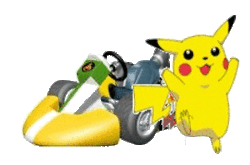 Television Appearances
Pikachu and Kirby: Amazing Adventures Pikach appears as a main character in Pikachu and Kirby: Amazing Adventures. He is very intelligent, friendly, and socially awkward. He is Kirby's best friend.
Notable Pikachu Characters
Stats
Base Stats

HP

35
Attack

55
Defense

40
Sp. Attack

50
Sp. Defense

50
Speed

90
Total

320

Other Series
Pikachu has been announced as a playable character in Mario Kart Burst. He is a lightweight and unlock able.
Gallery