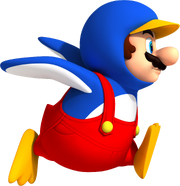 Penguin Mario is one of Mario's Power-Ups. It is accesible by putting on the Penguin Suit.
Abilities
Penguin Mario can throw ice balls, swim better and faster, and belly slide to crush Brick Blocks.
Appearances
Penguin Mario appears as a trophy in Jake's Super Smash Bros..
Trophy Description
You may ask yourself the question "why is Mario dressed up like a penguin?" Well, there's an easy answer to this: this is Penguin Mario (and the Penguin Suit isn't just a fashion statement)! While he dons the Penguin Suit, Mario is capable of throwing small balls of ice to freeze the foes that he comes across, and he can even pick them up or use them as platforms to reach new areas. While that's fairly useful on its own, Penguin Mario can also slide around on his stomach to traverse icy platforms at an incredible speed.
Penguin Mario
Gallery
Navigation Templates
Playable Characters
Default
Unlockable
Alternate Characters
Assist Characters
| Default | Unlockable | Pokémon |
| --- | --- | --- |
| | | |
Obstacles
Other Characters
Alolan Grimer · Amul · Ann Takamaki · Big Urchin · Blizzy · Bravoman · Buzz-Buzz · Cutiefly · Don-chan · Dragoneel · Fierce Deity · Frygar · Galaxian Starship · Gil · Judge · King · Kissy · Lloyd · Mappy · Mareanie · Missile · Morgana · Perry · Pooka · Rabbid Luigi · Rabbid Yoshi · Red Baron · Ribbon · Rowlet · Runner · Ryuji Sakamoto · Sandy · Smasher · Servbot · Sima Zhao · Tarosuke · Toad · Topcup · Tron Bonne · Valkyrie · Wonder Momo · Ziggy
Trophies
Boo Mario · Cat Peach · Cloud Mario · Fire Mario · F.L.U.D.D. · Franziska von Karma · Glass Joe · Hammer Slam Bowser · Judge · Larry Butz · Mario · Miles Edgeworth · Penguin Mario · Phoenix Wright · Propeller Mario · Rock Mario · Von Kaiser
Ad blocker interference detected!
Wikia is a free-to-use site that makes money from advertising. We have a modified experience for viewers using ad blockers

Wikia is not accessible if you've made further modifications. Remove the custom ad blocker rule(s) and the page will load as expected.