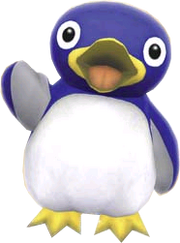 Penguins are recurring characters in the Mario (series). They mainly appear in Mario Party and Mario Sports games, but have made a few main-game appearances.
They are said to be related to Bumpty, a penguin-like enemy from Yoshi's Island.
Appearances
Surprisingly they appear playable in Super Mario MHL and appear in the crowd. The playable penguin's number is 95.
Trivia
There is also a suit called the Penguin Suit, which looks similar to the penguin.
Ad blocker interference detected!
Wikia is a free-to-use site that makes money from advertising. We have a modified experience for viewers using ad blockers

Wikia is not accessible if you've made further modifications. Remove the custom ad blocker rule(s) and the page will load as expected.