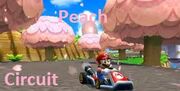 Peach Circuit
Peach Circuit is the 1st track in the Mushroom Cup in the upcoming game, Mario Kart 8!
Track Owner:Peach
Obstacles:None
Staff Ghost: Peach, Royal Ribbon, Roller, Peach Parasol
Expert Staff Ghost: Toadsworth, Parade Kart, Gold, Super Glider
Description
The track takes place on a pink tarmac track with grasslands, a pond and cherry trees. The overview of the track(right) is in the shape of an heart.
Shortcuts
At the halfway point, there will be a blue dash pad that players can drive over to glide. While grabbing coins, it takes you to the 3/4 point of the track.
Ad blocker interference detected!
Wikia is a free-to-use site that makes money from advertising. We have a modified experience for viewers using ad blockers

Wikia is not accessible if you've made further modifications. Remove the custom ad blocker rule(s) and the page will load as expected.