Peach Castle
is a default stadium in the game
Mario Rugby
. It is home to
Peach
.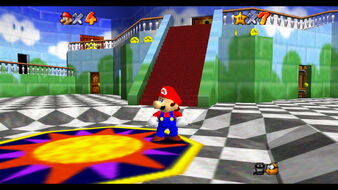 peach castle you course in Mario Kart RPG-D U.
Description
Peach Castle is a stone type and bears some resembelence to Peach's Castle from Super Mario 64. The course is surronded by no seating but instead by many Star Bunnies and Pianta's.There are many hazards in this stadium including roaming Goomba's and falling coins from the Chandelier.
Ad blocker interference detected!
Wikia is a free-to-use site that makes money from advertising. We have a modified experience for viewers using ad blockers

Wikia is not accessible if you've made further modifications. Remove the custom ad blocker rule(s) and the page will load as expected.