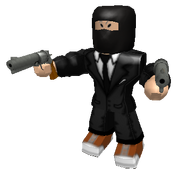 Paris is Tritan's more violent brother that first appeared in Worlds of Creations. He always carries two pistols, so he can never enter a airport.
Appearances
Worlds of Creation
He appears in Party mode as second player. He carries his two pistols as his special ability.
Deadly 17
Paris will appear next to his brother in Deadly 17.
Super Tritan Galaxy
Paris is an unlockable character in Super Tritan Galaxy.