Pistol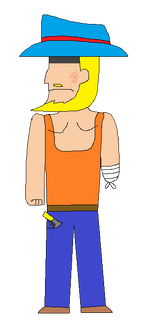 Hero Number
032
Availability
Paid
Paradigm Shift
Il Sole mio
Pistol is a playable character in Paradigm. He is a paid downloadable character and is the 32th character to be added to the game.
Background
Marco Gemello (often called Pistol) is a Sicilian gunman of American origins. After joining an infamous mafia, the Camorra, he was tasked to kill the mayor of Naples in order for his boss to take his throne. But he shot his boss instead, running away with stolen weapons and his then-girlfriend Gina and both migrates to America. When Gina is kidnapped, he heads into the the Paradigm to rescue her.
Description
Pistol is blonde man with a blue hat, wearing an orange shirt, a brown belt, and blue pants. He also has a scar in a form of a skull and had his right arm cut.
Gameplay
Pistol heavily focuses on long range attacks with his various weapons. The biggest downfall is his overall speed, which takes long to reach his enemy.
Quick Attack
Heavy Attack
Passione per le giostre
Pistol will take out his sword and slash the enemy. Pressing the buttons again will make another one up to three.
Scherzo della notte
Pistol tosses a grenade at the enemy and explodes. Holding will cause to delay, but if you hold enough, the grenade will explode, damaging Pistol.
Special Ability 1
Special Ability 2
Grande Sceriffo
Pistol will take out his gun and fires at the enemy. Tapping the button will fire rapidly, and will have 15% chance of a critical hit. It also has high priority.
Adoro il mare
Pistol will throw his smoke grenade. Athough it dosen't do damage, can blind any enemy for 6 seconds.
Paradigm Shift
Passive Trait
Il Sole mio
Pistol will draw his Tango 51 and fires at the targeted player, killing it instantly. In this form, Pistol will carry his Sniper Rifle as long as he wants until 15 seconds are passed.
Cigar
When his health is reduced to half, he will take out his cigar and smokes it. This trait increases his strentgh at 15%.
Skins
Quotes
General
"Hey, want some fun? Eccolo qui"


— Upon joining a match
"Sara falice... (This will be easy...)"


— Upon joining a match
Abilities
— Upon using Grande Sceriffo
— Upon using Grande Sceriffo
— Upon using Adoro il mare
— Upon using Adoro il mare
— Upon using Il Sole mio
"You just got trouble, man."


— Upon using Il Sole mio
Character Specific
"I never killed a demon, but that's my job"


— After defeating a demon character.
— After defeating Cherry Fella.
"It's a shame, I actually would have l-liked to try your juice. Sorry."


— After defeating Maloha.
"Looks like i'm taking you to jail, and don't run away, capito?"


— After defeating Jailbird.
Trivia
Pistol is inspired and based off by Jigen from Lupin the IIIrd and Sniper from Team Fortress 2, and his girlfriend Gina's design is partially influcenced by the infamous American criminal Bonnie Parker.
His 3rd Alt is a reference to Sceriff Bot from Zeurel's Robo Western.
Pistol was originally going to carry around a bazooka as his Paradigm Shift, but was scrapped off in order to keep his gameplay balanced.
Ad blocker interference detected!
Wikia is a free-to-use site that makes money from advertising. We have a modified experience for viewers using ad blockers

Wikia is not accessible if you've made further modifications. Remove the custom ad blocker rule(s) and the page will load as expected.