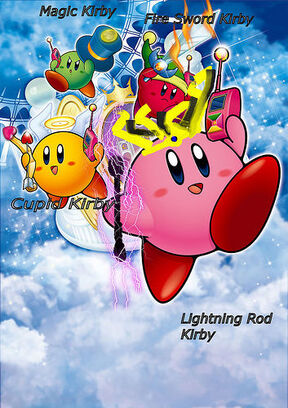 This is an article about the Charcter Paper Kirby 55. If you were looking for the user, see User:Paper Kirby 55
Paper Kirby 55 is a brother of Wood Kirby, Iron Kirby, and Lava Kirby.
Early life
Paper Kirby was born in the year ???! in Dreamland. He is the oldest of 4 brothers. He lived his early life in a small house just outside of Cappy Town. He got Homeschooled untill he went to College.
College and the Rest of his life
Paper Kirby went to Nintendo College. He was an ace at every subject. Here is his report card.
| | |
| --- | --- |
| Math | A+ |
| LA | A+ |
| Science | A+ |
| SS | A+ |
With his good grades, he founded the company Fantendo Brothers and its subcompany, Fantendo Brothers Entertainment.

He now lives as next door neighbors to Mario and Luigi. They are his Assistents. He now works as the Ceo of Fantendo Brothers.