Pac-Man Pizza (Restaurant)

Pac-Man Pizza, where all the pizzas are made to look like Pac-Man.

Type of Company
Restaurant
Founder(s)
Pac-Man
Founded at/in
April 7th, 2010
Area(s) Served
Los Angeles,

Boston,

New York City,

Tokyo, Japan

Chicago,

Dallas,

London, England

St. Louis,

Shanghai, China

Owner(s)
Pac-Man
No. of Employee(s)
Pac-Man

John

Steve

Nancy

Pac-man Pizza is a Pizza restaurant chain located in Los Angeles, CA, Boston, MA, New York City, NY, and Tokyo, Japan. It was founded by Pac-Man on April 7th, 2010. It is currently known worldwide for selling pizza in the shape of Pac-Man, and selling Pac-Man related food. The only people not allowed in the restaurants are Ghosts (as a sign on the window states).
History
Pac-Man
wanted a break from his video game life, and had been looking for careers that could make him some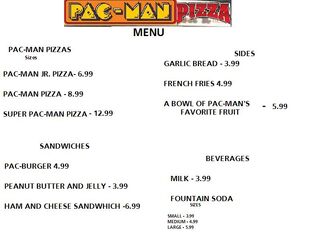 money. He looked around and saw a bunch of pizza parlors. Then, it gave him an idea. Maybe he could sell pizza in a creative way: sell pizzas that look like Pac-Man. So, Pac-Man Pizza was born. Since then, the restaurant was a major success, giving rise to multiple of these pizza parlors in parts across the United States and one in Japan.
Food
Pac-Man Pizza primarily sells pizza that is shaped like Pac-Man. They come in three sizes: Pac-Man Jr. Pizza, which is a small pizza for an individual person, Pac-Man Pizza which is a regular large pizza, and Super Pac-Man Pizza, which is a giant 18-inch pizza, which is highly recommended if you are having a birthday party at the place.
Pac-Man Pizza doesn't sell just Pizza. They also sell stuff like sandwhiches, including hamburgers, and peanut butter and jelly sandwiches. There are of course sides to go with your pizza, such as french fries, garlic bread, or a bowl of all the fruit that Pac-Man likes best (Which is the fruit seen in the arcade game). The restaurant also sells soda, such as Coca-Cola, Pepsi, Sprite, and Dr. Pepper. For those who can't drink soda or don't feel like it, you are also given the choice of chocolate or white milk or water. The water is free.
Finally, is the dessert menu. Pac-Man Pizza sells only 3 desserts so far. They sell molten chocolate cake, and ghost shaped cookies, and for birthday parties, a birthday cake, which is the most expensive item on the menu.
Reception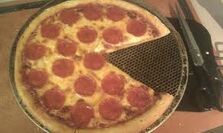 Ad blocker interference detected!
Wikia is a free-to-use site that makes money from advertising. We have a modified experience for viewers using ad blockers

Wikia is not accessible if you've made further modifications. Remove the custom ad blocker rule(s) and the page will load as expected.