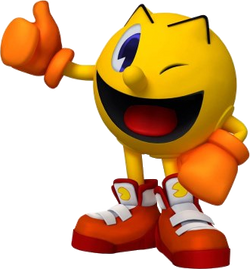 "The signal's bad, here! Some idiot teleported me into a pit. ...Orson? Is that you? Are you, by any chance, the idiot of whom we speak?"

—
Pac-Man World 3
Pac-Man is a character that first appeared in the game Pac-Man. He is a very well known video game character. He runs around in a maze eating Pac-Dots and other stuff. In recent years, he has turned to adventure games, partying and kart racing with Mario on the arcade, twice.
Pac-Player
Edit
Pac-Man, along with Link, Kirby, Pikachu, Henry the Moose and much more non-Mario characters appears playable in Super Mario MHL: Series 2.
Pac-Man will appear playable for the first time in the Sonic Speedball RPG Series.
Pac-Man appears as a playable character in Super Duper Smash Bros. He is the only character from the Pac-Man series to make it in, even though Ms. Pac-Man was considered.
Pac-Man appears as a playable character in a Mario Kart game for the first time when third party characters and other Nintendo characters are introduced. He, along with Inky, Blinky, Pinky, and Clyde will be playable.
1st Player is Wakka Wakka Wakka is a Yellow Cookie.
Pac-Man is DLC character in Super Smash Bros. Charged! your final smash is Final Pac-Man : the opponents turns into ghosts and pac man bites them.