POW Block did not originate from fanon, and more information can be found on their respective wiki(s). You may read more about it on the following wiki(s):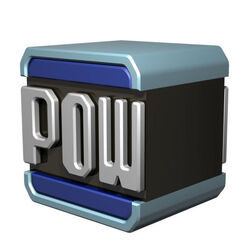 POW Block is an item in the Mario series, that when hit or thrown, will damage all enemies on the screen. It debuted in Mario Bros. In older Mario games they were Red then they changed to Blue and in New Super Mario Bros. 2 Red POW Block reappeared.
Mario Kart Series
POW Blocks appear in the Mario Kart series. It knocks out all the players on the ground in front of the player that threw it. However, the player can dodge the POW Block if the player is doing a trick in the air.
In the game New Super Mario Bros. 5-Star Adventure, POW Blocks come in different colors, each with a it's own special ability -
Red - Defeats enemies near the block and triggers any other nearby POW Blocks.
Blue - Defeats all enemies on-screen
Green - Defeats all enemies on-screen and knocks floating coins (including Star Coins and Ace Coins) to the ground.
Purple - Defeats all enemies on-screen, knocks floating coins to the ground, and breaks Bricks & opens ? Blocks
Golden - When hit, it sends a slow and powerful shockwave in both directions that kills enemies, breaks bricks, and opens ? Blocks in it's path. The player follow a shockwave for even a whole level's worth of time, making Golden POW Blocks the most powerful of all.
Gallery
Ad blocker interference detected!
Wikia is a free-to-use site that makes money from advertising. We have a modified experience for viewers using ad blockers

Wikia is not accessible if you've made further modifications. Remove the custom ad blocker rule(s) and the page will load as expected.