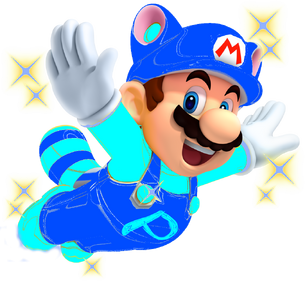 P-Raccoon Mario is probably Mario's most powerful form.
When Mario touchs a P-Leaf, he becomes this.
Powers/Abilites
P-Raccoon Mario is easily the most powerful power-up in the entire Mario series. He has great indestructiblity, in other words, he is completely immune to everything, even lava, wihich he can actually walk on, unlike White Raccoon Mario, who was completely useless against lava. Plus, as an added bonus to the suit, the P-Meter is full and running at all times, meaning it's impossible for the P-Meter to run out or even go down.