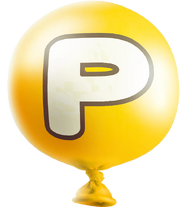 The P-Balloon is one of Mario's Power-Ups that turns Mario into Balloon Mario. It first made it's appearance in Super Mario World and reappears in the game New Super Mario Bros. Omega.
There is a pooltoy recreation of this item called P-Floatie. They don't have the same effect as the real P-Balloon but they have a self-propelling system and handle bars that allow themselves to be used as waterbikes. Although it can also be used for relaxation.
Ad blocker interference detected!
Wikia is a free-to-use site that makes money from advertising. We have a modified experience for viewers using ad blockers

Wikia is not accessible if you've made further modifications. Remove the custom ad blocker rule(s) and the page will load as expected.