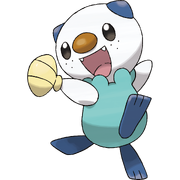 "Oshawott shell-cuts!" (Introduction tagline)
Oshawott, the funny and tiny starter from the Generation 5 is ready! He is fast and agile but he can also perform some good combos to make the opponents in a disadvantage condition! He is a speedster character and his main element is Water.
Special Moves
Standard Special: Scald. Oshawott splits some hot water which inflicts 16% of damage. This move has also Fire effects!
Side Special: Water Pulse. Oshawott makes a little water sphere which traps the opponents, inflicting them 8% of damage and traps them for 4 seconds.
Up Special: Razor Shell. With his shell, Oshawott spins three times and jumps high! Each spin inflicts 7% of damage.
Down Special: Swords Dance. Oshawott does a strange dance which increase the damage of the moves of the 0.5% (for example, Scald inflicts 24% of damage) for 9 seconds.
Final Smash: Torrent. Oshawott becomes invulnerable for 17 seconds and his move's damage is double!
Unlock Criteria
Swim for 10 minutes outside the Story Mode
Win the Classic Mode with Pikachu, Lucario and Charizard.
Have him join in Story Mode.
Ad blocker interference detected!
Wikia is a free-to-use site that makes money from advertising. We have a modified experience for viewers using ad blockers

Wikia is not accessible if you've made further modifications. Remove the custom ad blocker rule(s) and the page will load as expected.