Chapter 1: Breaking the Barracks
Nova is a half wolf, half demon, half human deity who lives in a forbidden world near to the Mario universe. He lives on Celista, a planet inhabited by Demons Wolfs. Today he's trying to escape a anicent war that destroyed his people 4,000,000,0002 years ago.
(In a high tech factory)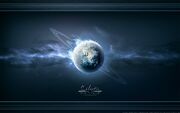 (Boom)
Nova: I'm out. Now to find a home.
Zekas: Bro. You know that they'll come after?
Nova: No deal. I have a idea.
Zekas: Like the other 20 chances?
Nova: Shut up! You don't know nothing!
Zekas: Alright.