Nora is a character in the
Neverhood Series
. She is a black chao with a white pony tail wearing a tutu, and loves to dance ballet. She is also best friends with
Yoko
.
Battle For The Neverhood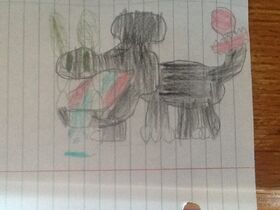 Nora was mutated by the spores Dr. Kogg sprayed all over the Neverhood, causing her to morph into a giant Spitadile. She resides over at the Lurker Graveyard along with a mutated Yoko, but they were defeated by
Klaymen
and
Charles
. Nora tries to kill Klaymen and Charles by drooling acid out of her mouth and crush them with her feet and tail. She then goes back home afterwords.