"The future is on your hands"


— Tagline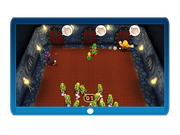 Nintouch is a next-generation tablet made by Nintendo. It is similar to the Apple's iPad, but it have more features, like 3D without glasses similar to the Nintendo 3DS.
Games
For more detailed info, click here.
Ad blocker interference detected!
Wikia is a free-to-use site that makes money from advertising. We have a modified experience for viewers using ad blockers

Wikia is not accessible if you've made further modifications. Remove the custom ad blocker rule(s) and the page will load as expected.