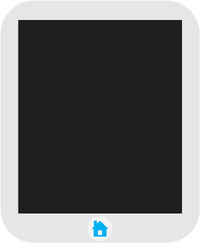 The WiiTablet is a tablet created by ALG Inc. It is one of the Wii's many successors and one of Nintendo's only tablets. It will release on January 15, 2013 in all countries except Europe (January 20, 2013). In it's first release, it will be available in two colors, White and Black.
Comparing to Other Tablets
iPad
The WiiTablet is very much like the iPad by Apple. It's design is most notable, with a similar placement of the touch screen and home button. The menu also has similaries to the iPad.
Features
The WiiTablet has a camera, built-in microphone, and several apps (which can be bought via the store).