the Nintendo Walrus is a Home Console developed by Nintendo and Depressed Walrus Productions. The console was designed to allow more hardcore gamers to play Nintendo games on a "Gamer" system.
Support for Games
Walrus Titles
| | |
| --- | --- |
| Extension:DynamicPageList (DPL), version 2.3.0 : Warning: No results. | |
Old Nintendo Systems
Downloadable Titles
The Nintendo Walrus adds support for all previous Downloaded games to be ported onto the consoles Memory for play (see Narwalrus Market for more info)
Disc Copy's
the Walrus can play all Gamecube,Wii,and Wii U titles.
NX
XBOX
In a partner ship with Microsoft, the Nintendo Walrus can play Most XBOX One and 360 games, downloaded or disc copy (see Narwalrus market for info on downloading Xbox games)
Software
after first downloading the Day 1 Patch, players gain access to this software:
Narwalrus Market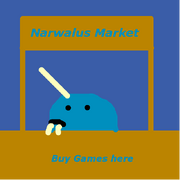 Narwalrus Market is the Virtual Store included with the Nintendo Walrus.
Downloading Old Titles
Narwalrus Recovery is a app included in Narwalrus Market. Using this program, it is possible to Cross data over from the Xbox 360, Xbox One, Wii,Wii U, and Gamecube through different methods. It is also possible to retrieve downloaded games (IE Virtual Console or Xbox Live Arcade) and download them onto the Nintendo Walrus
Notes
If you want a game on the Nintendo Walrus,just ask in the comments or on User:EeveeTube MC's talk.