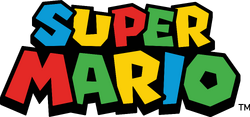 The Super Mario series is a world in Nintendo Unlimited, it is a vast world with four locations to explore. Featuring challenging platforming action and the familiar Mario enemies to stomp and battle.
Gameplay of the Super Mario World
There is a lot of platforming action in this world, many pipes to enter and blocks to hit. You can still jump on Goombas to defeat them and also use your Twinkler to hit them, and even Piranha Plants and Hammer Bros. are there! You can also hit blocks, and they can have Power-Ups too! That's right, you can shoot fireballs and glide with the awesome Super Acorn.
World Goals
To see the full list of goals in the Super Mario world, See Here!
Areas
| Area Name | Description |
| --- | --- |
| Toad Town | The town of the Toads, featuring many friendly Toads to talk to that give tips, not only that, you can enter Peach's Castle and explore the whole thing, even the garden! There is also the underground sewers to explore, but watch out for enemies below! |
| Creepycrack Valley | |
| Starlite World | |
| Bowser's Domain | |
Realies
Figurines
| Figurine | Description |
| --- | --- |
| Mario | The well known red plumber, now, you can be the likes of him, with his famous costume, you can just be Mario! |
| Luigi | Don't think only Mario gets to be a Figurine too, now you can have the great green costume of Luigi! Luigi's number one! |
| Bowser | Roar! You are the Koopa King now; well, not only do you get fire and super strength, you're totally awesome in this Bowser costume. |
| Wario | The king of greed, this guy is in it for the riches. Luckily, you don't have to become super greedy when you put on the costume, but you do get a magnet that lets you attract Bulbs! |
Hexles
Super Leap
Knockout Speed
Quake Stomp
Summoning Cards
Goomba
Koopa
Lakitu/Spiny
Buzzy Beetle
Hammer Bro.
Sumo Bro.
Music Played
Ad blocker interference detected!
Wikia is a free-to-use site that makes money from advertising. We have a modified experience for viewers using ad blockers

Wikia is not accessible if you've made further modifications. Remove the custom ad blocker rule(s) and the page will load as expected.