Ad blocker interference detected!
Wikia is a free-to-use site that makes money from advertising. We have a modified experience for viewers using ad blockers

Wikia is not accessible if you've made further modifications. Remove the custom ad blocker rule(s) and the page will load as expected.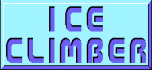 The Ice Climber series is a world in Nintendo Unlimited. It is a mini world world with just 2 locations to explore, and some hammer bonking and challenging platforming action.
Gameplay of the Ice Climber World
There is a lot of platforming in this world, going up and down is happening a lot here. Dangerous enemies are also walking too, and mountain climbing happens a lot. This world also has puzzle based sections of each area too.
World Goals
| Area Name | Description |
| --- | --- |
| Weathermo Town | The main location/hub from Ice Climber: Age Of Ice, many Wayzers are in need of help, and Tendarks are trying to start trouble. |
| Icicle Mountain | The original mountain the Climbers went up to, Wayzers will give goals and challenges while you head up there. |
| Boss: Vetrices' World | The world the Climbers travelled to has been revamped, it is highly guarded and there are tricky puzzles and dangerous weapons. |
Realies
Figurines
| Figurine | Description |
| --- | --- |
| Popo | The blue Climber breaks the ice and now you can be him, his costume gives you some serious hammer power. |
| Nana | The pink Climber, pink is so great, this costume will give you some climbing skills. |
| Mako | An orange Climber who joined the Ice Climbers. Now you can wear Mako's amazing snow protective clothes, they protect you from cold weather. |
Hexles
Absolute Zero
Hammer Time
Frosty View
Summoning Cards
Polar Bear
Topi
Condor
Zertin
Music