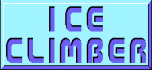 The Ice Climber series is a world in Nintendo Unlimited. It is a mini world world with just 2 locations to explore, and some hammer bonking and challenging platforming action.
Gameplay of the Ice Climber World
There is a lot of platforming in this world, going up and down is happening a lot here. Dangerous enemies are also walking too, and mountain climbing happens a lot. This world also has puzzle based sections of each area too.
World Goals
| Area Name | Description |
| --- | --- |
| Weathermo Town | The main location/hub from Ice Climber: Age Of Ice, many Wayzers are in need of help, and Tendarks are trying to start trouble. |
| Icicle Mountain | The original mountain the Climbers went up to, Wayzers will give goals and challenges while you head up there. |
| Boss: Vetrices' World | The world the Climbers travelled to has been revamped, it is highly guarded and there are tricky puzzles and dangerous weapons. |
Realies
Figurines
| Figurine | Description |
| --- | --- |
| Popo | The blue Climber breaks the ice and now you can be him, his costume gives you some serious hammer power. |
| Nana | The pink Climber, pink is so great, this costume will give you some climbing skills. |
| Mako | An orange Climber who joined the Ice Climbers. Now you can wear Mako's amazing snow protective clothes, they protect you from cold weather. |
Hexles
Absolute Zero
Hammer Time
Frosty View
Summoning Cards
Polar Bear
Topi
Condor
Zertin
Music