Nintendo Matrix
The Nintendo Matrix is a new handheld console with 5 times the graphical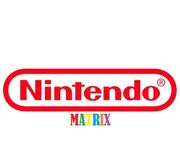 power of a next gen console such as the PS3. It is capable of 3D. It also has a touchscreen & double camera. It also uses colour based gameplay.
It comes in Chaos Black, Blessed White & The Matrix (Rainbow coloured.) There are also special Amber & Fossil editions.
Controls
A Button
B Button
X Button
Y Button
L Button
R Button
Left Analog Stick
Right Analog Stick
HOME Button
Power Button
Start Button
Select Button
Matrix Button (Can change various game aspects.)
Volume Slider
3D Slider
Programs
Announced Games
Ad blocker interference detected!
Wikia is a free-to-use site that makes money from advertising. We have a modified experience for viewers using ad blockers

Wikia is not accessible if you've made further modifications. Remove the custom ad blocker rule(s) and the page will load as expected.