Nintendo Legetta

The Legetta logo, seen everywhere related to Legetta

Developer(s)
Nintendo
Manufacturer(s)
ASUS
Console Type
Home console
Generation
9th
Release Date(s)
October 28th 2018
Media
Blu-Ray
CPU
Intel Core i7
GPU
Metroidex
Feature(s)
Cloud Downloading, 5K Graphics, Much compact Gamepad
Backward Compatibility
Wii U, Wii
Predecessor
Wii U
The Nintendo Legetta (japanesse: 任天堂GO POWER !, Nintendo GO POWER!) is a ninth genaration video game console by Nintendo and hardware created by ASUS that has a simmalar graphics and stuff like the Xbox One, but came out around the REXbox and PlayStation 5.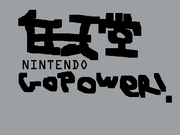 Features:

CPU: Intel Core i7
RAM: 11GB
Graphics: Nintendo Metroidex Graphics Card (a updated Wii U graphics chip)
PSU: 400W
OS: LegettaOS/ GOS!
Games
These are the announced games for the Legetta:
-Super Mario Field (Dev and Published by Nintendo)
-Metroid (Dev and Published by Nintendo)
-Pokemon WILD! (Dev by Nintendo's GO POWER SOFTWARE! division, published by Nintendo)
-Rayman Quest (Dev and Published by Ubisoft)
-Five Nights at Freddy's Trilogy (Dev by ScottGames, published by Konami)
Ad blocker interference detected!
Wikia is a free-to-use site that makes money from advertising. We have a modified experience for viewers using ad blockers

Wikia is not accessible if you've made further modifications. Remove the custom ad blocker rule(s) and the page will load as expected.