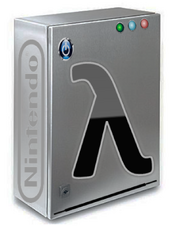 "Play with your friends in all new ways using the all new Nintendo Lambda!  Using new kinds of controls, the Lambda is sure to give you the best experience on the market!" - Tony Zmuda, head of Toniopia div. of Nintendo.
Rumors
Leaks came from multiple sources that the Toniopia division of Nintendo was aiming to release a new console, although they were denied for about 7 months.  In June, 2028, they were officially confirmed with a launch trailer as well as a small demo.
Concept
The concept of the Lambda is to create seemless gameplay integrated with voice, motion, and AR controls.
Ad blocker interference detected!
Wikia is a free-to-use site that makes money from advertising. We have a modified experience for viewers using ad blockers

Wikia is not accessible if you've made further modifications. Remove the custom ad blocker rule(s) and the page will load as expected.