Ad blocker interference detected!
Wikia is a free-to-use site that makes money from advertising. We have a modified experience for viewers using ad blockers

Wikia is not accessible if you've made further modifications. Remove the custom ad blocker rule(s) and the page will load as expected.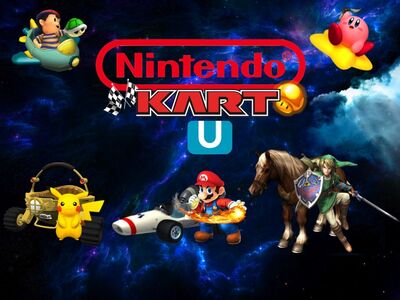 Nintendo Kart: Wii U 
is a fan-made racing game developed by BlueYoshi Studios and published by Nintendo for the Nintendo Wii U. 
Please do not edit this page
.
Gameplay
Much like the Mario Kart series, players compete in races as one of the 32 available characters from the vast world of Nintendo. Various power-ups, including the Mushroom and the Gale Boomerang, are also present in each race. There are a total of 36 race tracks in Nintendo Kart: Wii U, ranging from the calm seaside of Orange Ocean to the bustling city of Nimbasa. 
Controls
A button- Accelerate
B button- Stop or Reverse
X Button- Perform a Trick
Y Button- Perform a Taunt
L Button- Use Item
R Button- Drift
Control Pad- Change Viewing Angle
Circle Pad- Steering
Start Button- Select Menu
Modes
Single Player Mode
Grand Prix
Time Trial
Versus Mode
Battle Mode
Multiplayer Mode
Online Mode
Versus Mode
Battle Mode
Time Trial
Starter Characters
| | | | |
| --- | --- | --- | --- |
| Official Character Artwork | Name | Kart | Statistics |
   Mario  

 B Dasher 

Kart Speed: 3/5

Kart Acceleration: 3/5

Kart Weight: 3/5

Kart Drifting: 3/5

Kart Handling: 3/5
   Link     

   Epona  

Kart Speed: 2/5

Kart Acceleration: 3/5

Kart Weight: 3/5

Kart Drifting: 3/5

Kart Handling: 2/5
 Pikachu 

 Zero One

Kart Speed: 3/5

Kart Acceleration: 4/5

Kart Weight: 2/5

Kart Drifting: 3/5

Kart Handling: 4/5
  Kirby   

 Warp Star

Kart Speed: 2/5

Kart Acceleration: 3/5

Kart Weight: 2/5

Kart Drifting: 4/5

Kart Handling: 3/5
   Fox    

    Arwing  

Kart Speed: 4/5

Kart Acceleration: 3/5

Kart Weight: 3/5

Kart Drifting: 4/5

Kart Handling: 2/5
 Samus 

  Gunship 

Kart Speed: 2/5

Kart Acceleration: 4/5

Kart Weight: 4/5

Kart Drifting: 2/5

Kart Handling: 3/5
   Ness   

    PK Jet  

Kart Speed: 3/5

Kart Acceleration: 3/5

Kart Weight: 2/5

Kart Drifting: 2/5

Kart Handling: 3/5
Donkey

  Kong  

 Mine Cart

Kart Speed: 2/5

Kart Acceleration: 4/5

Kart Weight: 4/5

Kart Drifting: 3/5

Kart Handling: 2/5
 Bowser 

   Koopa

  Krusher

Kart Speed: 4/5

Kart Acceleration: 3/5

Kart Weight: 5/5

Kart Drifting: 2/5

Kart Handling: 2/5
 Pit  

    Exo Tank  

Kart Speed: 3/5

Kart Acceleration: 2/5

Kart Weight: 3/5

Kart Drifting: 4/5

Kart Handling: 3/5
  Yoshi   

   Egg 1  

Kart Speed: 3/5

Kart Acceleration: 4/5

Kart Weight: 2/5

Kart Drifting: 3/5

Kart Handling: 3/5
Captain

   Falcon   

 Blue Falcon

Kart Speed: 5/5

Kart Acceleration: 2/5

Kart Weight: 4/5

Kart Drifting: 4/5

Kart Handling: 1/5
Starter Courses
| | | | |
| --- | --- | --- | --- |
| Course Photo | Name  | Respective Cup | Description |
| | | | |
| --- | --- | --- | --- |
| | Castle Grounds | Mushroom Cup | The track takes place on a vast field with sandy roads to race on. It eventually winds into Peach's Castle, where the racers drive through hallways, secret corridors, and even the kitchen! Once out of the castle, the drivers go through her garden until they cross a stone bridge and loop back to the beginning. |
| | | | |
| --- | --- | --- | --- |
| | Kokiri Forest | Mushroom Cup | In the mythical village of Kokiri, racers drive on a dirt path through a winding lush forest filled with large trees and fluttering faries. The course features a hedge maze, albiet a small one, and the Great Deku Tree, in which the racers drive through. When the drivers exit the tree, they continue on a path that brings them back to start. |
| | | | |
| --- | --- | --- | --- |
| | Orange Ocean | Mushroom Cup | Surf's up! Racers drive on a sandy beach scattered with umbrellas and Coners under an orange sunset. About halfway through the course, the ocean freezes over and drivers finish the race on an icy path through snowy caves. The track leading up to the finish line becomes narrower as it begins to melt. The sea reverts back to its normal state on the start of the next lap. |
| | | | |
| --- | --- | --- | --- |
| | Nimbasa City | Mushroom Cup | At night, in the bustling city of Nimbasa, racers drive on a road that winds next to big buildings, glorius fountains and even a giant ferris wheel! The track is straightfoward; however, other vehicles such as cars and buses can run into racers, which may prove to be somewhat of a challenge for beginning players. |