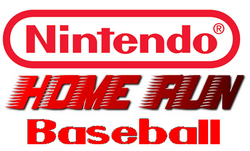 Nintendo Home Run Baseball is a Nintendo baseball game by Red Inc. and EEA Inc.
Characters
Team Mario
Team Donkey Kong
Team Pokemon
(As you progress through the game, some of these Pokemon will evolve.)
Igglypuff/Jigglypuff/Wigglytuff
Riolu/Lucario
Chimchar/Monferno/Infernape
Piplup/Prinplup/Empoleon
Team Kirby
Knuckle Joe
Sword Knight
Plasma Wisp
Cappy
Adeleine
Team User
Stadiums
Pokemon Stadium
Dreamland
Items
Ad blocker interference detected!
Wikia is a free-to-use site that makes money from advertising. We have a modified experience for viewers using ad blockers

Wikia is not accessible if you've made further modifications. Remove the custom ad blocker rule(s) and the page will load as expected.