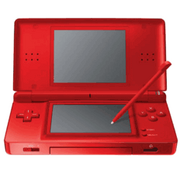 The Nintendo DS5 is the fifth installment in the Nintendo DS line with it's predecesseor being the Nintendo DSi XL. It was released in Japan on November 23, 2010, America on November 24, 2010, and Europe & Australia on December 19, 2010. On release day, it was bundled with 
Nintendo Arcade Classics
. It's best known for it's color-changing ability. You can choose the color on the home menu from it's original launch colors: Black, Red, Blue, and Orange. It is similar to the Nintendo DSi. This is the first system in the Nintendo DS line to have amiibo support. It's currently sold 17 million units worldwide.
These are the best-selling DS5 games as of January 1, 2016
Super Smash Bros. DS
The system has their own Virtual Console
Ad blocker interference detected!
Wikia is a free-to-use site that makes money from advertising. We have a modified experience for viewers using ad blockers

Wikia is not accessible if you've made further modifications. Remove the custom ad blocker rule(s) and the page will load as expected.