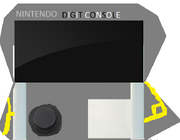 The Nintendo DIGIT is a system that anyone can use for their games, but you can't say you had the idea of the system, the game idea is yours, just don't own the System.
The Nintendo DIGIT Has a white screen for a camera, the bigger screen is for Games, Apps, and A ton of other stuff. There is a Analog stick, that's It. BUT Certain games use the Big screen, which is also A Touch-Screen!
The List: (If you make games involving this system, be sure to list them so we can get to them easier!