Nintendo Compiwiitlation is a game for the Nintendo Wii.
Well its not just a game...its games! Its a compilation.
over 50 games!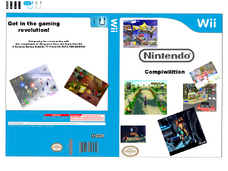 Games
Spongebob
Creature From The Krusty Krab

Mario
Mario Super Sluggers
Mario Strikers Charged
Mario Kart Wii
New Play Control! Mario Power Tennis
Mario Party 8
Super Paper Mario
Super Mario Galaxy
Mario & Sonic at the Olympic Games
Super Smash Bros. Brawl
including ds games!
= Also.. =

Theres lot so more!
Info
You can play over 50 games for an hour or 2 of fun! Play up to 4 players in endless gaming! Including Mario Strikers Charged and Rayman Raving Rabbids 2!
With 50 games to choose from...you will never stop gaming!