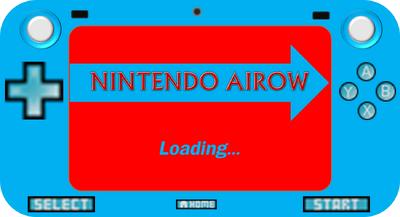 The Nintendo Airow is a handheld console created by ALG Inc. It looks similar to the Wii U GamePad at the top mainly, and the bottom similar to the 3DS. It will be released on January 28, 2013 in Japan, January 30, 2013 in North America, and February 5, 2013 in Europe and Austraila. There will be two versions - a Basic version, and a Deluxe version.
Features
The Airow contains several built-in software and features. The camera feature is one of them, and like the DSi and 3DS, has two main cameras, on in front, and one on the back. The console also has microphone, a motion sensor, and 2 free games (Built-In Software/Deluxe Sets only). The Airow is also capable of sending and recieving messages.
Built-In Software
As said earlier, the Airow has free, built-in software. The following are all software already built in to the Airow.
Mii Channel

From the Wii, 3DS, and Wii U, the Mii Channel is where a person can create a Mii and save it to the channel. Like on the Wii and Wii U, Miis play great roles in the console. The player can also now play minigames with their Miis in a new "Miigame" mode.
Photo Channel

The Photo Channel is where people can view, edit, and take photos using the camera. People can also share, send, and recieve photos. People can also edit sent photos and return them to the other player, or can browse through the Worldwide Photo Gallery, where people can submit their photos to the Internet and let the world view them on other consoles, or online.
Airow Shop

The Airow Shop is where players can buy software for their console. Several of these softwares include virticial console games. Some
WiiTablet
games are also available.
AirowWare (Deluxe Sets only)
AirowWare is a special game shop. Instead of purchased games being saved to the Airow Menu, it is saved to the AirowWare Menu in the aoftware. The software itself has 8 GB in it for storing sub-software.
Pictochat
This title is from the DSi. Pictochat allows players to pass notes in a special chat.
AirowChat (Deluxe Sets only)

AirowChat is very similar to Wii U Chat. The player can chat with someone else by written (typed) messages, or by live chat via the Internet.
The best-selling Puzzle Swapper game will be included with the Deluxe Sets.
Colors
Basic Set
Deluxe Set
Set Features
Basic
Console with 32 GB of memory
2 GB SD Card
AC Adapter
Stylus
Deluxe
Console with 64 GB of memory
8 GB SD Card
AC Adapter
2 Stylus'
1 Mega Stylus
Console Stand
Charging Cratel
AirowChat Built-In Software
AirowWare Game Software (Comes with 8 GB of system memory)
Puzzle Swapper Game
Ad blocker interference detected!
Wikia is a free-to-use site that makes money from advertising. We have a modified experience for viewers using ad blockers

Wikia is not accessible if you've made further modifications. Remove the custom ad blocker rule(s) and the page will load as expected.