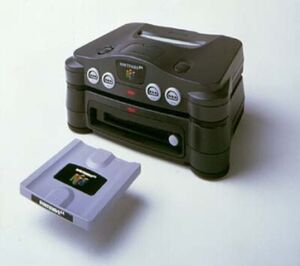 Slogan "Get A or Get Out"
The Nintendo 64 AA was a console made by AquaAtia in 1997.It was the upgrade of Nintendo's, Nintendo 64. With this upgrade it managed to slighty improove graphics can play Nintendo 64 AA games.The console had a News Year Day release all over the world Since AquaAtia worked very hard to get it done before November then they shipped it everywhere to get it all ready for New Years Day.The Nintendo 64 AA's brother was the Nintendo 64 DD which was released 2 years after the AA, but the 64 DD didn't work out as well as the AA. The Nintendo 64 DD was designed after the Nintendo 64 AA.
Games
New Super Mario Bros 64
Super Smash Bros AA Lock On
Mario Paint Doulble A Charged
Super Mario 64 Lock ON
Released

January 1, 1971




January 1, 1971




January 1, 1971




January 1, 1971

Discontinued
April 5, 2006
Predecessor
Nintendo 64
Sucessor
Nintendo GameCube
Ad blocker interference detected!
Wikia is a free-to-use site that makes money from advertising. We have a modified experience for viewers using ad blockers

Wikia is not accessible if you've made further modifications. Remove the custom ad blocker rule(s) and the page will load as expected.