The Nintendo 64DD was a cancelled add-on for the Nintendo 64. But, at the Combustion Games meeting in 2011, someone suggested it should be remade into a system. It was agreed, and on March 1st, it was released with a package game and a new logo
Play Features
64DD Basic Controller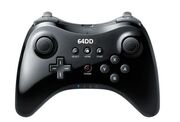 The
64DD Basic Controller
is the main controller of the 64DD console. The 64DD Controller is somewhat similar to the Wii's Classic Controller and Classic Controller Pro by the frontal button layout and that it has grips. However, the , , , , and the are found below the , also clickable. The player's number's lights from the Wii Remote, and the , have been added in the center of the controller, as it's wireless and it is battery-powered. The Wii U Pro Controller is also bulkier in appearance than the Wii's wired controllers, and the and are arranged differently as actual trigger buttons, like how they were arranged on the Classic Controller Pro, though they are now pressure sensitive. Its appearance overall makes a vague resemblance to the
Xbox 360's controllers
. It looks exactly like a Wii U controller.
Games
Combustion Games Games
Other Company's Games
Ad blocker interference detected!
Wikia is a free-to-use site that makes money from advertising. We have a modified experience for viewers using ad blockers

Wikia is not accessible if you've made further modifications. Remove the custom ad blocker rule(s) and the page will load as expected.