The Nintendo 64 did not originate from fanon, and more information can be found on their respective wiki(s). You may read more about it on the following wiki(s):
The Nintendo 64, N64 or 64 is a fifth generation game console featuring an unique style. It's sucessor was the Nintendo GameCube, and it's predecessor was the SNES, it was Nintendo's third console and it's main attraction was cartridges and 64-bit graphics.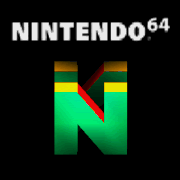 List of Games
Any page that has Category:Nintendo 64 Games on them will be added here automatically.
Boxart Gallery
Other
Ad blocker interference detected!
Wikia is a free-to-use site that makes money from advertising. We have a modified experience for viewers using ad blockers

Wikia is not accessible if you've made further modifications. Remove the custom ad blocker rule(s) and the page will load as expected.