STOP WHAT YOU'RE DOING!!
This article is being worked on by Potatogurl and people who she has let help her. Please DON'T edit without her permission!!
The Nintendo 3.4 Palm (Usually shortened to 3.4P) is a handheld gaming system by Nintendo.
Features
You can play DS, DSi, 3DS, and Game Cube games
You can take pictures and videos
You can record sound
You can play games in 3D
You can ajust the level of 3D-ness
You can ajust the size of the system
Orgin of Name
It is called the 3.4 Palm because it is in 3D (3.4 Palm), It can play games from 4 older systems (3.4 Palm) and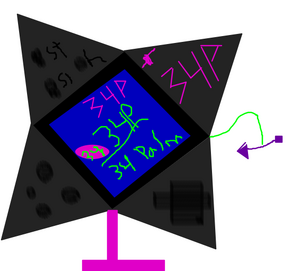 it can fit in your palm at its smallest size. (3.4 Palm) It was originally the 34 Palm, but the name was changed to 3.4 Palm for cirtan reasons.
Pre-instaled titles
Mii Maker
Flipnote
Flippic
LiveTV
Internet
3.4Shop
Picture Editor
Camera
Sound Recorer
Phone
System Preferences
Comic, Book, and Magazine Rader
3.4P games
Appearance
I has 4 flaps the you can close (like a top screen) and has all the buttons on those flaps.
Ad blocker interference detected!
Wikia is a free-to-use site that makes money from advertising. We have a modified experience for viewers using ad blockers

Wikia is not accessible if you've made further modifications. Remove the custom ad blocker rule(s) and the page will load as expected.