Ninna is
Rosalina
's mother. She is dead, under Rosalina's old home's garden. Rosalina misses her a lot.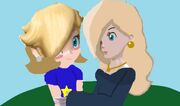 Story
Here we can see Rosalina's story, she misses her mother:
Personality
She was wise, nice and lovely, above all, with her daughter.
And she was adventurous, so, Rosalina inherited her adventurous spirit.
Ninna's favourite daughter was Rosalina, and she watches stars with her under the moonlight.
Physical appearance
She was pale, blonde, and her eyes were cyan, like her daughter's eyes.
She had a great akin with her daughter, but her look was sad, and her hair was wavy.
She wears a blue-grey long dress, a golden neckwear and two golden earrings.
Gallery
Here is the gallery: