"I already lost one family! I can survive losing another!"


—Nightwing in Justice: Apocalypse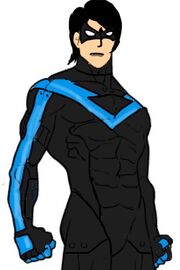 Nightwing is a fictional DC character who was the original Robin.
Appearances
Dick Grayson already lost one family. Losing another family drove him to madness. Aquaman came to him and offered a chance to resist Darkseid's rule and end him once and for all. Nightwing didn't refuse the offer.
Trivia
Gallery