The
Night Thunder
is the machine driven by the experienced old-timer:
Silver Neelson
. This machine was originally built by Neelson's childhood friend, Gold Hand in his middle-aged years as a memento to their long-lasting friendship. Gold was an amazing technical genius who was far ahead of the age he then lived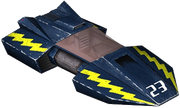 in, which is how he installed a unique navigation program into the Night Thunder which features a carbon copy of his mind and emotions made possible through a series of complicated neuro experiments. Such a task was undertaken by Silver Neelson's lifelong friend for the purpose of remaining with and guiding his greatest companion even after death had eventually taken him.
Statistics
Appearances
The Fire Stingray makes several appearances in the game. It appears as a trophy along with its pilot, Silver Neelson. In addition, the machine can be seen racing on Mute City.
The Night Thunder returns once again in F-Zero U, and is has been tweaked to feature a better grip, giving it more of a advantage for expert players.
Ad blocker interference detected!
Wikia is a free-to-use site that makes money from advertising. We have a modified experience for viewers using ad blockers

Wikia is not accessible if you've made further modifications. Remove the custom ad blocker rule(s) and the page will load as expected.