Night Blood
Developer(s)
Publisher(s)
Release date
November 1, 2012
November 2, 2012
November 3, 2012
November 4, 2012
November 5, 2012
November 6, 2012
Genre
Fighting
Mode(s)
Up to 8-Players
Rating(s)
Platform(s)
Playstation 3
Xbox 360
PC
Wii
Media
Playstation 3 Disc
Xbox 360 Disc
PC Disc
Wii Disc
"Nothing has prepared you for this moment..."

—
Night Blood tagline
Night Blood is the first game in the Night Blood fighting game series by Arcane Inc. It was released in 2012. It features a variety of traditional shaolin-based music/theme. The fighting style is very bloody and bone-crunching. It centers on the first Night Blood tournament (Han Lao, Rokuro, and Hinoka know it is actually the 100th tournament) and the ultimate defeat of the evil Han Lao by the former shaolin monk Chen Lei.
The game was a response to Midway's highly successful Mortal Kombat, which was spawned by a number of fighting games. It uses a fighting system similar from the Street Fighter formula. The controls consisted of seven buttons arranged in an "X" pattern: a heavy, light, & medium punch, a heavy, light, & medium kick, and a block button. Unlike Street Fighter, characters did not block while retreating or crouching, but required pushing the block button to low block, like in Mortal Kombat. Even then, characters would take (reduced) damage from any hit while blocking. If the two fighters were fighting each other, hitting any of the attack buttons would result in a different strike that was unblockable: a medium kick and punch pressed simultaneously turned into a throw. Jump kicking and crouch-kicking were executed in a similar fashion to Street Fighter.
The game retained a similar scoring system (based on successful hits.) If enough points were earned, the player would even unlock a hidden character named Snake.
Another of the game's innovations was the Devastator, a special move executed when the super meter of a character was filled and used against an opponent to brutally beat them in a gruesome fashion. For example, one character (Inferno) would spray fire at the living opponent, then round-house kick them to the head, smack them in the jaw, and then stomp on their chest, breaking the opponent's rib cage. There are four individual and unique attacks in the Devastator for every character. But what made the attack unique, is that as each assault is delivered, the camera slows down and the player must correspondingly press a button or key that matches the one showed on the screen. If the player forgets or misses a single key, the attack would fail. Devastator is known as the most brutal and only attack in the game.
A new and innovative feature in the game is a "specials" button. Once pressed, the player's character will release a special move unlike in most fighting games where a certain and specific combination is required. Each special move for a character is different and corresponds to which direction is analog (or D-Pad) is moved or pressed.
Click here for the full story.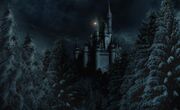 Years ago, the annual Shaolin Tournament, long the most prestigious fighting tournament in the world, was held by an old wizard and a strange humanoid creature. This was all part of Han Lao's plan to tip the balance into chaos and help the Otherland conquer the Earth.
Night Blood revolves around the three main characters. Chen Lei, a former shaolin monk recruited by an agency to investigate a tournament hosted by Han Lao, since they believe he has kept a secret behind the contest. Michael Steel, a British martial artist and playboy billionaire, and Sara, a spy from the same secretive agency Chen Lei was recruited from.
Everyone's fate would forever change in the next tournament. Han Lao watches senselessly as everyone fights to the death and then claps for the victor. And if fighters were lucky enough, they would face the 5,000 year old Draman warrior, named Rokuro. And now.. Earth's fate hangs in the balance in this 100th and final tournament.

Characters
Edit
| Image | Name | Bio |
| --- | --- | --- |
| | Michael Steel | A martial artist trained by Masters from Korea, Michael is a playboy billionaire whom is claimed weak by the paparazzi after an accidental snapshot of him being punched in the stomach during a sparring session with his brother. At the tournament, Michael hopes to prove the opposite. |
| | Bane | A Mercenary, Thug, and a Thief - Bane lives a life of crime and injustice. He is a devoted member of the Red Cobra Clan. The Kenshi-Ryu, a clan of samurai, have hired him to gather metallic parts from the tournament. |
| | Snake | A mysterious raptor from the Dinosaurs. He is rumored to be Han Lao's personal protector. Not much is known to how he survived his ancestors' extinction. (UNLOCKABLE) |
| | Vapor | The true identity of this warrior is Kenji Mitashi. He belongs to a super secretive clan of ninjas called the Mori Oni "forest demons", rivals of the Ken No Michi samurai clan. He is sent to exterminate Spider. |
| | Sara | A spy from a secretive organization. She was sent to the tournament along with Chen Lei to investigate. The trail led her to Han Lao's uncharted island, where dangers awaited her arrival. |
| | Hinoka | He is actually a deity known as The Fire God. It is rumored he received a personal invitation by Han Lao himself and took the form of a human to compete in the Tournament. He aids the Earth's heroes. |
| | Chen Lei | A former shaolin monk who's seeking revenge against the tournament's host, Han Lao, for killing his father. There is more Chen will learn as he progresses through every match in the tournament. He has been recently recruited by an agency to investigate the tournament. But Lei will soon realize his destiny is more than just vengeance. |
| | Spider | He is a member of the Kenshi-Ryu samurai clan. He enters the Night Blood tournament to terminate is prime target, Han Lao, while his partner, Bane, is sent to gather metallic parts for is clan. Spider must also attempt to evade his rival, Vapor. |
| | Rokuro | A creature from a race called "Draman", a native of the Otherland. He appears to be the sub-boss of the game, hence his position as the representative of the tournament. (SUB-BOSS) |
| | Han Lao | An evil wizard hoping to take the Earth. He is also the eternal king of the OtherLand. Many people oppose his rule and therefore seek to fight for Earth's independence. (FINAL BOSS) |
| Image | Name | Description |
| --- | --- | --- |
| | The Arena | This is the main fighting arena at Han Lao's Island Fortress. Great tournaments have been held here for centuries. Students watch warriors engage in combat. In it, Han Lao sits on a throne and watches the Night Blood tournament. Monk students also watch. |
| | Snow Hills | There are many traps set in the Snow Hills such as spinning blades and hammers that send the player flying into spikes. This arena is set in desolate bitter ice. It is rumored that those who were unlucky enough to find themselves lost atop the mountains would eventually be hunted down and killed by Snow Beasts and Frost Trolls. |
| | Urban Prison | The Urban Prison is deep below Han Lao's Palace. The prisoners weren't criminals, they were tournament fighters punished for roaming freely in the island overnight when they were forbidden. The lucky ones had a quick death in the acid pool for the amusement of guards. Others struggled in their cell, begging for freedom. |
| | Temple of Masters | The Temple of the Masters is a central part of Han Lao's fortress and is separated through rooms and each level is protected by guards. The last level is Han Lao's Throne Room. |
| | Star Bridge | The Star Bridge is a 1,000 meter tall gateway suspended in the mountains of Han Lao's Island. It is a dangerous arena for those unfortunate enough to fall off the ledge and die when slamming onto the ground. Since this stage is set high in the sky, fighters tend to see strange silhouette figures pass over the moon, and therefore claiming the arena was haunted. These frightening stories were never believed by the guards. |
| | Palace Gates | Han Lao's Palace Gates were sometimes strictly guarded to prevent any intrusion. Invited guests, however, were to enter the palace from this pathway. Upon from stepping on the sand of the island beach, guards escorted the combatants to the palace from here. |
| | Rokuro's Dungeon | Rokuro spends most of his time here during the tournament, skinning his defeated victims and placing them under soul capsules, which absorbs their energies, leaving a pile of bones. The souls are given to Sun Rha, to increase his power. This dungeon is located underground of Han Lao's Throne and acts as a room for a trap door. Those who are uninvited to him will fall into the trap door and land here. |
| | Han Lao's Throne Room | For those who have finally reached the final stage of the tournament will have the grand honor of facing Han Lao. To the present day, no one in the Night Blood tournament has ever reached the vile wizard except for Chen Lei's ancestor, Li Shao |
Fight - This mode can allow you to fight your way through the Arcade Ladder and eventually battle the sub-boss, Rokuro, then Han Lao. Fight mode can also be accessed as a Versus mode where you can enjoy playing against a friend. There is also a scramble mode like in Street Fighter X Tekken where four players fight at once. You can have another player fight with you, or against you. There is also a Practice mode where you can train yourself and work on your skills.
Campaign - Experience the true origins and beginnings of the Night Blood tournament and play individually as every character through the story mode. As you play through each episode (Total of 8), you'll perfectly understand each character's background and their goal/objective in the tournament. Campaign mode can be replayed once finished.

See here for episodes and roles.
Tournament - This mode is basically like the arcade ladder but the exception is that the player can customize it and can choose who can fight who. The player can even make all the contestants humans or can not even play and watch the CPU fight to the death. Up to 8-Players are only allowed in this mode.
Endurance - Test your skills with this mode and learn how long and how many matches you can endure. Every new record rewards the player with many points which are useful in unlocking content (which can be viewed in the Extras option.)
Online - Play with or against friends and other people online. Night Blood features a solid lobby system, Endless mode (borrowed from Super Street Fighter 4), a replay channel, and an extensive ranking system. Online friends can also be invited to play with or against you at this mode.
Store - View the PlayStation Store, Xbox Market, or the Wii Shop for DLC (Downloadable Content).
Extras - View all of your unlockables and character trophies you have earned from beating certain points in Campaign Mode or gaining enough points from winning matches online/offline.
Options - Customize your gaming experience through this mode. You can change AI settings, Audio, Brightness, Blood, or Controls. If you ever do wish to change settings back to the original features, press Default Settings.
Click here for reviews/pre-reviews or you can just visit the FGN Page for this article.
This is presumably the goriest game on Fantendo.
The transparency for character renders were done by Nintendoofah64.
Night Blood became the 40th featured article on Fantendo.
The Characters
Edit
The Stages
Edit
Click here for full gallery.