Ad blocker interference detected!
Wikia is a free-to-use site that makes money from advertising. We have a modified experience for viewers using ad blockers

Wikia is not accessible if you've made further modifications. Remove the custom ad blocker rule(s) and the page will load as expected.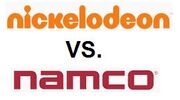 Nickelodeon vs. Namco
is a crossover fighting game, it's like
New Super Smash Bros.
for the
Nintendo 64 Games System
. It is a Collision of worlds of Nickelodeon and Namco. If you play it, it is so invulnerable your hearts will pump 'till you die! You will like it and you will love it!
Characters
Nickelodeon
Doug
Ren
Stimpy
Tommy Pickles
Rocko
Arnold
Norbert
Dagget
Stump
CatDog
SpongeBob
Timmy
Cosmo
Wanda
Jimmy
Aang
Fanboy
Chum Chum
Dudley Puppy
Sheen
Korra
Danny Phantom
Tenzin
Otis
Pip
Pig
Katara
Sokka
Zuko
Zim
Namco
Dig Dug
Gilgamesh
Ki
Toby Masuyo
Tarosuke
Wonder Momo
Bravoman
Valkirye
Sandra
Quarkman
Hiromi Tengenji
Klonoa
Gantz
KOS-MOS
Taira no Kagekiyo
Clovis
Wagan
Amul
Talmit
Kazuya
Bob
Jin
Julia
Xiaoyu
Heihachi
Steve
Nina
Christie
Eddy