Ad blocker interference detected!
Wikia is a free-to-use site that makes money from advertising. We have a modified experience for viewers using ad blockers

Wikia is not accessible if you've made further modifications. Remove the custom ad blocker rule(s) and the page will load as expected.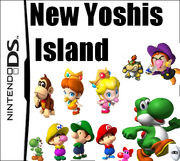 New Yoshis Island is a game with every baby character ever made. It was made for the DS and the WII.
Characters
| | | |
| --- | --- | --- |
| Baby Mario | Yoshi: Green | His special ability is being able to make Yoshi run faster. |
| Baby Luigi | Yoshi: Pink | His special ability is being able to shoot green fireballs to get through passages usually unacessable. |
| Baby Peach | Yoshi: Red | Her special ability is being ability to attack enemies with her parasol, and fly with windy flower panels with it too. |
| Baby Daisy | Yoshi: Light Blue | She has an upgraded parasol and can throw rattles at enemies. |
| Baby DK | Yoshi: Blue | Can swing on vines, do DK Dash and can hover a few inches higher. |
| Baby Wario | Yoshi: Light Yellow | Power: Can use a magnet (has the same skills from Yoshi's Island DS) |
| | | |
| | | |
| | | |
| | | |