Ad blocker interference detected!
Wikia is a free-to-use site that makes money from advertising. We have a modified experience for viewers using ad blockers

Wikia is not accessible if you've made further modifications. Remove the custom ad blocker rule(s) and the page will load as expected.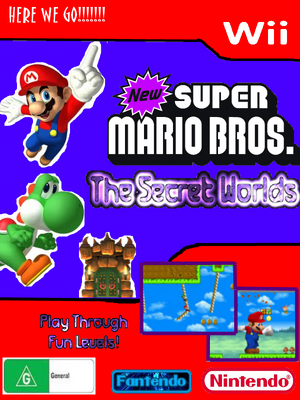 New Super Mario Bros The Secret Worlds is a game being released in January 2012 for the 3DS and Wii.
The Story
Mario is having Dinner with Luigi, Daisy , Peach and Toad after a long day at a fair. Suddenly Toadette comes in looking and sounding all worried. She told Mario that Bowser and his army was attacking the Mushroom Kingdom and that he was trapping them in ice crystals. Bowser heads towards Peaches Castle and takes everyone exept for mario. Bowser Makes a large warp hole in the ground and pushes Mario into it and Toad accedentaly falls in to.Mario wakes up in a world much like his exept Peaches Castle isn't there and the sky doesn't look lovely and blue any more( It looks like the roof of a very large cave. Mario Must now go through all the strange secret worlds to save Peach, His Freinds and the citicens of the Mushroom Kingdom.
Playable Characters
Yoshi

Mario can ride around on Yoshi.

Yoshi can flutter jump and eat enemies.

Mario

Mario is the main Character in the game and is Play-able from the start. Mario has many power ups to help him get through tough levels.

Toad

Toad can be a Play-able character after Mario saves him in world 1 Castle.He has the same power ups as Mario and is very quick.
Worlds and Levels
World

Bosses

Levels

World 1

Grassland

Castle1 - Larry koopa

Castle 2 - Larry Koopa

1-1

1-2

1-3

1-4

1-5

1-6

World 2

Desert

Castle 1- Roy Koopa

Castle 2 - Roy Koopa

2-1

2-2

2-3

2-4

2-5

2-6

World 3

Beach/Grassland

Castle 1 - Wendy O Koopa

Castle 2 - Wendy O Koopa

Airship - Bowser Jr/Goomboss

3-1

3-2

3-3

3-4

3-5

3-6

World 4

Snow/Sky

Castle 1 - Iggy koopa

Castle 2 - Iggy Koopa

4-1

4-2

4-3

4-4

4-5

4-6

World 5

Jungle/Grassland

Castle 1 - Lemmy Koopa

Castle 2 - Lemmy Koopa

5-1

5-2

5-3

5-4

5-5

5-6

World 6

Mountian

Castle 1 - Morton Koopa Jr

Castle 2 - Morton Koopa Jr

Airship - Bowser Jr / Petey Piranha

6-1

6-2

6-3

6-4

6-5

6-6

World 7

Sky

Castle 1 - Ludwig Von Koopa

Castle 2 - Ludwig Von Koopa

7-1

7-2

7-3

7-4

7-5

7-6

World 8

Lava / Volcano

Castle 1 - Bowser Jr

Castle 2 - Bowser Jr

Airship - Dry Bowser

Final Boss - Mega Bowser

8-1

8-2

8-3

8-4

8-5

8-6

8-7

World 9 - Bonus World

Space/ Sky / Grassland

No Bosses

9-1

9-2

9-3

9-4

9-5

9-6

9-7

9-8
Enemies
| | |
| --- | --- |
| | Goomba |
| | Para Goomba |
| | Koopa Troopa ( Green |
| | Koopa Troopa ( Red |
| | Koopa Paratroopa ( Green |
| | Koopa Paratroopa ( Red |
| | Gloomba |
| | Octomba |
| | Micro Goomba |
| | Koopa Troopa ( Blue |
| | Koopa Troopa ( Yellow |
| | Koopa Troopa ( Black |
| | Snooz-a- Koopa |
| | Hammer Bro |
| | Ice Bro |
| | Fire Bro |
| | Bomerang Bro |
| | Bomber Bro |
| | Bone Bro |
| | Ball Bro |
| | Vortex Bro |
| | Buzzy Beetle |
| | Para Buzzy |
| | Spike Top |
| | Spiny |
| | Light Blue Spiny |
| | Para Beetle |
| | Heavy Para Beetle |
| | Dry Bones |
| | Dull Bones |
| | Mega Dry Bones |
| | Para Bones |
| | Boo |
| | Pink Boo |
| | Big Boo |
| | Pink Big Boo |
| | Jack O Goomba |
| | Crowber |
| | amp |
| | Bramball |
| | Swooper |
| | Para Piranha |
| | Ghost Piranha |
| | Piranha Plant |
| | Blue Piranha Plant |
| | Stalking Piranha |
| | River Piranha Plant |
| | Venus Fire Trap |
| | Venus Ice Trap |
| | Pokey |
| | Poison Pokey |
| | Kelpto |
| | Bullet Bill |
| | Missile Bill |
| | Banzai Bill |
| | Bombshell Bill |
| | Banzai Missile Bill |
| | Banzai Bombshell Bill |
| | Torpedo Ted |
| | Thwomp ( Blue, Spikless |
| | Thwomp ( Grey, Spiked |
| | Thwimp ( Blue , Spikless |
| | Thwimp ( Grey, Spiked |
| | Whomp |
| | Whimp |
| | Blooper Nanny |
| | Bloo-Pow |
| | Squirto Blooper |
| | Baby Blooper |
| | Urchin |
| | Mega Urchin |
| | Manta Ray |
| | Cheep Cheep |
| | Cheep Cheep ( Yellow |
| | Cheep Chomp |
| | Deep Cheep |
| | Porca Puffer |
| | Lakitu |
| | Crabber |
| | Blue Crabber |
| | Foo |
| | Fwoosh |
| | Bob - Omb |
| | Para Bob - Omb |
| | Shy Guy ( 6 Colours |
| | Fly Guy |
| | Podoboo |
| | Bully |
| | Chain Chomp |
| | Fire Chomp |
| | Money Bag |
| | Monty Mole |
| | Sushi |
| | Bomba Troopa |
Other Enemies
| | |
| --- | --- |
| | Wiggler |
| | Suttle Bug |
| | Magikoopa |
| | Boom Buzzy |
| | Fish 'n Boo |
| | Grindel |
| | Spindel |
| | Rocky Wrench |
| | Bully |
| | Mega Bully |
| | Mr I |
| | Twirlip |
| | Fire Chomp |
| | Skeeter |
| | Putrid Piranha |
| | Muncher |
| | Nipper Plant |
| | Spitter Plant |
| | Red Bones |
| | Blue Bones |
| | Dark Bones |
| | Sledge Bro |
| | Spiked Ball |
| | Mega Wiggler |
| | King Bill |
| | Tox Box |
| | Fuzzy |
| | Spike |
| | Stone Spike |
| | Burning Spike |
| | Snow Spike |
| | Poison Spike |
Lil Mouser
Mecha koopa
Para Mecha Koopa
Fishbone
Broozer
Burning Ball
Chain 'n Ball
Clam
Cooligan
Mr Blizzard
Burn Bit
Brr Bit
Cannon
4 Way Cannon
Super Thwomp ( Gray, Spiked

| | |
| --- | --- |
| | Super Thwomp ( Blue , Spikless |
Galleries
Screenshots