New Super Mario Bros. U 2
Developer(s)
CS Games
Publisher(s)
CS Games
Platform(s)
Wii U
Release Date(s)
-
Mode(s)
Normal Mode, Coin Rush Mode, Nabbit Mania Mode
Age Rating(s)
E
Genre(s)
2D Platformer
Media Included
Disc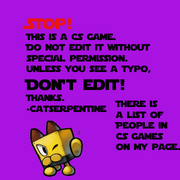 New Super Mario Bros. U2
is a
Wii U
Game combining elements of NSMB2 and NSMBU.
Characters
Playable
| Image | Name | Description |
| --- | --- | --- |
| | Mario | Why else is it a Mario game? Our favorite plumber is venturing out again into the Mushroom World to figjht Bowser and get Peach Back. |
| | Luigi | Of course Luigi helps! He has higher jumps than Mario does. |
| |  Yellow Toad | Yellow toad is back alongside the other 4 heroes. |
| | Blue Toad | OK, OK, we get it, he's back. we'll skip the intro for your sake. |
| | Rosalina | Rosalina is back alongside the other 4 heroes. |
Yoshis
Yoshis as well as Baby Yoshis appear in Super Mario World U. In the game Yoshi comes in Green, Yellow, Cyan, and Pink, they all behave the same like in New Super Mario Bros. U. Baby Yoshis have their own unique powers and they can be taken along the adventure unless they are thrown or run into Lava, Poison Water or an abyss.
| Image | Name | Description |
| --- | --- | --- |
| | Yoshis | Yep, it's Yoshi, appearing in almost every Mario game, including this one. |
| | Bubble Baby Yoshi | These Bubble-blowing Yoshis are, for the third time, blowing bubbles for Mario to...Ok, we get it. (But what does he eat? Dishwashing Liquid?) |
| | Balloon Baby Yoshi | Balloon Baby Yoshis are inflating for mario to help him get to out-of-reach places again. |
| | Bulb Baby Yoshi | Bulb Baby Yoshis, yeah ,yeah, we get it. |
| | Dash Baby Yoshi | Faster! Faster! Exactly! That's this guy's power! |
Powerups
Power-Ups
NEW!
Ad blocker interference detected!
Wikia is a free-to-use site that makes money from advertising. We have a modified experience for viewers using ad blockers

Wikia is not accessible if you've made further modifications. Remove the custom ad blocker rule(s) and the page will load as expected.