New Super Mario Bros. Legend of the Shine Sprites is a Mario game for the Nintendo Wii. It's a four player game, but you can play with over 4 people via Wi-Fi.
Plot
The story begins on a normal day in the Mushroom Kingdom. The Mario Brothers, Princess Peach, Toad and Toadette are about to watch the Shine Sprites perform in the Princess's Royal Opera House. The curtains come up, but nothing happens! Suddenly, Bowser, the Koopalings, and Bowser Jr. burst through the ceiling with all the Shine Sprites in a sack with them. They grab the princess and go back to the doomship, which was hovering over the oprea house the whole time. They drop Dragonia in world one and fly off. After the player wins the game and saves the princess, they return to the opera house and watch the Shine Sprites.
Characters
Worlds
World 1 - Mushroom Kingdom - Dragonia
World 2 - Rocky Hill - Tim J.
World 3 - Candy Mountain - Harley B.
World 4 - Muddy Path - Larry
World 5 - Poison Lake - Jackson
World 6 - Sarasaland - Morton Jr
World 7 - Shadow World - Risen
World 8 - Sandy Shores - Wendy O.
World 9 - Kitchen - Dolly
World 10 - Trash Heep - Ellen D.
World 11 - Dino Dino Jungle - Iggy
World 12 - Comet Observatory - Noah
World 13 - Lava Land - Roy
World 14 - Vanila Ice Dome - Lemmy
World 15 - Sky High - Ludwig
World 16 - Boom Box Peak - Lavora
World 17 - Road To The Koopa Kingdom - Bowser Jr
World 18 - Koopa Kingdom - Bowser
Enemies
Like most mario games the enemies are goombas, koopas, bob-ombs, moles, wigglers ect. Howerver three new enemies have made an apearance these are transforming koopas they gane take on the form of trees, toads, and even princesses! The transforming koopas take on the form of Peach, Daisy and Rosalina. In world 1 its Peach, in world 6 its Daisy and in world 12 its Rosalina.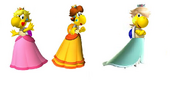 Gallery
Ad blocker interference detected!
Wikia is a free-to-use site that makes money from advertising. We have a modified experience for viewers using ad blockers

Wikia is not accessible if you've made further modifications. Remove the custom ad blocker rule(s) and the page will load as expected.