Ad blocker interference detected!
Wikia is a free-to-use site that makes money from advertising. We have a modified experience for viewers using ad blockers

Wikia is not accessible if you've made further modifications. Remove the custom ad blocker rule(s) and the page will load as expected.
New Super Mario Bros. Epic! is a game for the
Super NDS
which will be released on the console's launch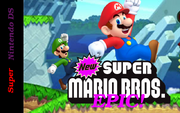 Story
Mario & Company are walking with peach peacfully when Bowser's airship appears and starts firing at mario & company.
When Luigi almost gets hit he lays on the floor and repeatedly says "I want my mommy." When Mario and Company are all stunned Bowser lands the airship and steals princess peach. Its up to Mario & Friends to save her!
Playable Characters
Mario
Luigi
Green Toad
Red Toad
Miis
Non-Playable Characters
Peach
Daisy
Regular Toad
Blue Toad
Yellow Toad
Allies
Yoshi
Baby Yoshi
Happy Pokey
Enemies
Goomba
Para-Goomba
Gold Goomba
Koopa Troopa
Para-Troopa
Gold Koopa Troopa
Hammer Bro.
Bommerang Bro.
Bob-Omb Bro.
Cheep-Cheep
Flying Cheep
Wiggler
Big Wiggler
Bob-Omb
Para-Bomb
Bullet Bill
Targeting Bullet Bill
Gold Bullet Bill
Big Bullet Bill
Targeting Big Bullet Bill
Gold Big Bullet Bill
King Bill
Gold King Bill
Dry Bones
Giant Dry Bones
Thwomp
Thwimp
Fishbone
Pirahna Plant
Giant Pirahna Plant
Jumping Pirahna Plant
REST TBA
Worlds
World 1: Koopa Hills
World 2: Pokey Desert
World 3: Frost Lake
World 4: Ocean Commotion
World 5: Rumble Jungle
World 6: Mount Goom
World 7: Cloud Land
World 8: Lava Lane
World S: Star World
World E: Extreme!
Bosses
1-Tower: Ludwig Von Koopa
1-Castle: Petey Pirahna
2-Tower: Iggy Koopa
2-Castle: Pokey King
3-Tower: Morton Koopa Jr.
3-Castle: Crystal King
4-Tower: Larry Koopa
4-Castle: Tryclyde
5-Tower: Lemmy Koopa
REST TBA
Power Ups
Super Mushroom
Fire Flower
Koopa Shell
Ice Flower
Super Star
Thunder Flower
Super Leaf
Invincible Super Leaf
Metal Cap
Stone Cap
Vanish Cap
Super Cap
Mega Fire Flower
Mega Ice Flower