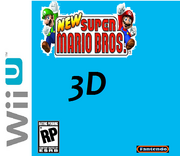 THIS IS ABOUT AN UPCOMING GAME BY TIGERFANG GAMES! IF YOU WOULD LIKE TO WORK ON IT, PLEASE ASK HERE
New Super Mario Bros. 3D is an upcoming game for the Wii U system (It will be may released on the FTF 3D to). It Features Mario, Luigi and the whole crew ready for action! It features many of the same worlds and levels in the other NSMB games, but this one is in FULL 3D!
Gameplay
Not much has changed about gameplay, except the fact that you can move forward and back. You may be able to do the spin-pound in SMG, but it has been unconfirmed. The heaviest change was the ability to walk into all sides.
Confirmed Worlds
Unlike other NSMB games, this game allows free movement on the mapscreen and has 10 worlds as opposed to the usual 8.
Many panels are on the mapscreen. Lit-up panels are levels, green panels are item rooms and blue panels can be walked on.
World 5: Winter Wasteland
World 7: Overgrown Jungle
Enemies
A complete list of enemies is currently under construction and shall not be revealed for a while. It is notable to say that new enemies, enemies from one only adventure and enemies from the beginning of time all have a part in this game.
Confirmed Enemies
Chain Chomps
Piranha Plants
Pokeys
Koopa Troopas
Dry Bones
Flaming Ghosts
Unagi
Mega Unagi
Fishbones
Tanoombas
Goombas
Cheep Cheeps
Urchins
Club plants
Rocky Wrenches
Blockhoppers
Bloopers
Pirate Koopas
Bosses
References
Although it is yet to be confirmed, this game looks like a 3D re-make of SMB3 and SMW because the frog suit and cape feathers return and the area decor is similar.
Gallery
Screens
Official Artwork
Models