New Super Mario: Legends is upcoming TV Series on the upcoming channel Amazing World of Cartoons. It set in year 100 focusing on Mario's teen ancestor, Max. He's on a quest in the Mushroom Kingdom to become one of Peach's greatest knights by travelling to The Darklands, home to Bowser.
DO NOT GIVE ME MEAN MESSAGES.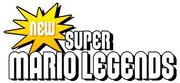 Episodes
Season 1: World 1's Kickoff!
| | | |
| --- | --- | --- |
| Rise of Max! | 01 | Max is sent on the ultimate test he has to do; Finally destroy Bowser. |
| Fierce Training of Hell! | 02 | After getting his butt kicked by Bowser Jr., Max is offered help by Elder Rosa, Queen of the Stars. |
| Rematch! | 03 | Max has returned to The Towers of Doom to rematch Bowser Jr. |
| His Name is Leo... | 04 | Max has revealed his younger brother Leo to World 1, and has let him join the quest. |
| The Underground: Rise of Toady! | 05 | Max & Leo have been kidnapped by Donkey Kong and have been left in The Underground. Can a small wimpy friend of Max and Leo, called Toady, save them from DK? |
Ad blocker interference detected!
Wikia is a free-to-use site that makes money from advertising. We have a modified experience for viewers using ad blockers

Wikia is not accessible if you've made further modifications. Remove the custom ad blocker rule(s) and the page will load as expected.